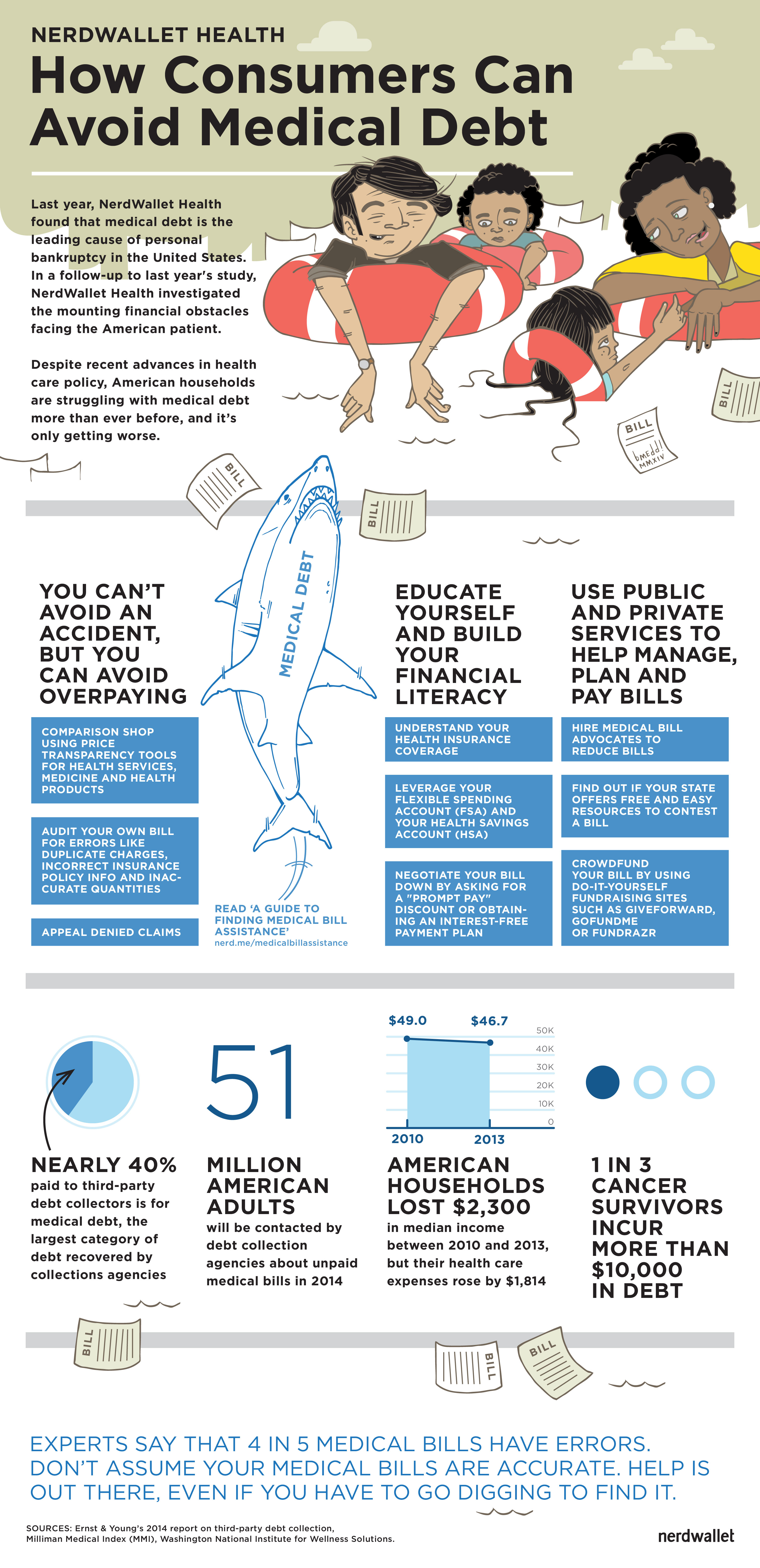 via:NerdWallet Health
UGH! – the medical debt crisis in America is worsening despite advances in health care policy. On top of this – the largest driver of personal bankruptcy: nearly 60% of all personal bankruptcies in the USA are caused by medical debt.
NerdWallet Health recently investigated the mounting financial obstacles facing the American patient.
Key findings from the study include:
• While households lost $2,300 in median income between 2010 and 2013, their healthcare expenses increased by $1,814.
• Medical debt is the largest category of consumer debt in collections. 1 in 5 American adults will be contacted by a debt collection agency about medical debt in 2014.
• According to an online survey commissioned by NerdWallet and conducted by Harris Poll, 63 percent of American adults have received medical bills that cost more than they expected.
• NerdWallet Health compiled data from across all Medicare Compliance Reviews of U.S. hospitals conducted by the Office of the Inspector General in 2013 and found rampant billing errors led to an average medical bill overcharge of 26 percent.
• Hospital billing is complex and varies drastically. NerdWallet Health found for the same inpatient treatment, one hospital can charge more than 50 times as much as another hospital. Furthermore, for the 100 most frequent inpatient procedures covered by Medicare, there is an average of 25 times difference between lowest and highest charges.
• The survey conducted on behalf of NerdWallet Health by Harris Poll also shows 73% of adults say if they knew the cost of medical care before receiving a treatment, they could make better health decisions.
For more information visit: NerdWallet Health.